If you're a glasses wearer such as myself, then you're aware of the importance of picking out glasses that will fit just about any situation or mood. Whether you're lounging or wanting to go to a chill kickback; when you're not wanting to throw in some contacts, your glasses can easily be your statement piece or conversation starters. I did a blog post awhile ago on some frames I purchased ( you can read it here) and these glasses have been my favorite pair ever. They're classic, fashionable and cute as hell! I'm generally a lazy + comfy person who loves to achieve anything with as minimal effort as possible. So, I had to figure out how could I style my frames easily depending on the scene; whether I was going to dinner or to a simple kick back. If you're having some trouble on how to style your chic glasses or are wanting some quick + easy tips, you're reading the right blog post! Let's get started:
• A bold lip. Makeup can easily help style your eyeglasses. By wearing a bold lip color paired with your dope frames, it's sure to tie your easy look together. Colors like a fire engine red, royal purple or even an emerald green if that's what you're into! It's super cute, super simple and looks as if you put in effort when in actuality, it took you all of 2.5 minutes to put together.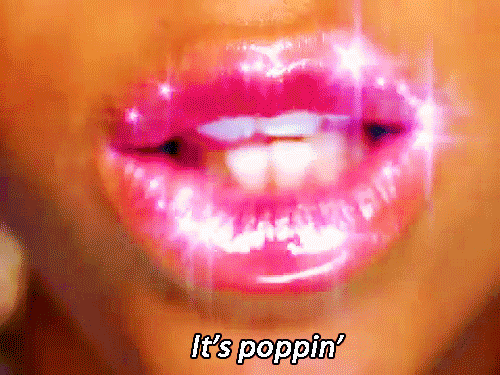 • A Patterned Scarf. Throwing on a scarf for the colder weather with your frames will never fail you! Scarves are already a fashion statement within itself; the two together is a cute combo.
• Comfy Hats. As mentioned before, I'm generally a lazy + comfy person; so, if I can find an easy way to look cute, best believe I'm all on it. Which brings me to why hats can dress up your eyeglasses in so many ways. I typically wear beanies on most occasions; being that I'm natural and twists-outs generally run my life. If my hair isn't dry, I throw on my SLAP (Y'all, these are freakin' life savers! No, this isn't a plug. That's just how much I enjoy this hat), paired with my frames and I get so many compliments on my look. Hats are a great addition to add flare to your eyewear. *inserts wink emoji because that rhymed*
• Messy Bun or High Puff. Up-dos always compliment a great pair of eyeglasses. By throwing your hair into a constructed messy bun/high puff paired with your chic eyeglasses and some small, statement earrings, the look altogether pulls through to perfection.
• Statement necklace. Chokers, gold necklace or even a chunky piece; necklaces add flare to match your eyewear. They also help to decide where you're trying to go with your look, sets the tone almost. My personal favorite necklace to wear with my glasses are chokers, skinny chokers. LOVE.
All of these simple tips have one thing in common: minimalism. Heard the saying less is more? Well, that rule definitely applies in this case. You won't feel so dull and will have great additives to go with your fashion forward frames. No matter what you decide, always remember to have fun with it!
Have any tips you'd like to add? Tell me in the comments below!